General information:
Solid State Drives (SSD) have now become the main storage devices in modern computers, even in very inexpensive models. They have many advantages over conventional hard disk drives: they have higher read/write speed, consume less power, and are more shock-resistant. Even their two main disadvantages, relatively less capacity and higher cost, are steadily descending.
At first, SSD devices had the same form factor (2.5" HDD) and interface (SATA) as conventional hard drives did. But now they also have a different, much smaller, form factor M.2, more convenient for laptops. They also may have several different interfaces: SATA 3.0, USB 3.0, and the fastest one: NVM Express (NVMe), which is based on the PCI Express bus.


Click image to enlarge
Fig.1. An example of a NVMe device
Specifics for file recovery from NVMe devices
Software must be able to work correctly with such devices to get direct access to their data which is necessary for file recovery. All data recovery products of R-TT, Inc, R-Undelete, R-Photo, and all R-Studio versions (including R-Studio Emergency) support such work. Moreover, they specifically show such devices on their panels.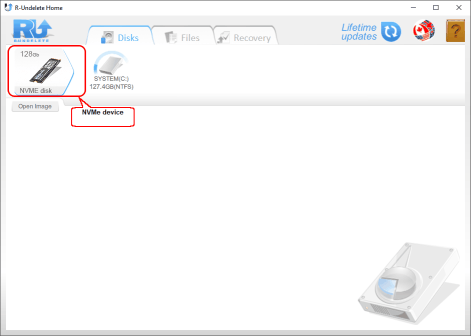 Click image to enlarge
R-Undelete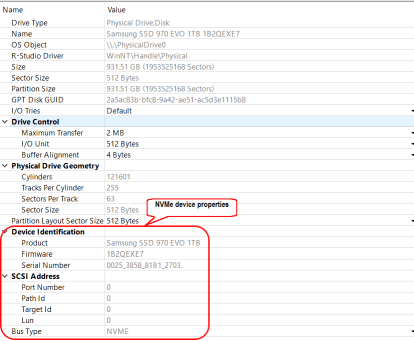 Click image to enlarge
R-Studio
Fig.2. NVMe devices in R-Undelete and R-Studio.

Being SSD devices in nature, NVMe devices have all their drawbacks in file recovery. We discussed them in detail in our article File Recovery Specifics for SSD devices. Below is a brief summary.
File Recovery Specifics for SSD devices.
Deleted files can almost never be recovered on Windows and Mac computers. Even raw file recovery cannot help. It may be possible to recover some deleted files on Linux machines if recovery is done before the TRIM command is issued.
Some files can be recovered from slightly damaged file systems (recognized by their native OS) if recovery is done fast and on systems with the TRIM command disabled.
Data recovery is possible from severely damaged file systems (not recognized by their native OS).
Recommendations for file recovery from NVMe devices:
A standard procedure for file recovery from a system storage device - taking the device out of the system and connecting it to a SATA port, or through a USB, FireWire, or Thunderbolt external box to an another computer specially set up for file recovery - something that usually cannot be applied to NVMe devices because such a task requires serious experience in handling electronic components. Quite often such devices are hardwired to the system board which makes such extraction impossible for a common computer user and needlessly difficult even for a skilled professional. That is why the data has to be recovered on that same computer with the NVMe device. Here there are two options:
Disable the TRIM command on the computer with the NVMe device. See the File Recovery Specifics for SSD devices article for more information on how to do that. We recommend you to use portable versions of our file recovery programs: R-Undelete for Windows machines and R-Studio for Mac for Apple computers.
Use the startup version of R-Studio. It has all of the features of R-Studio for Windows/Mac/Linux and similar looking panels and controls, but starts from a separate bootable disk with the TRIM command disabled.
The last but perhaps the most important advice: with all the difficulties that come with file recovery from SSD devices, a regular data backup from such devices becomes especially important. We have a very powerful yet easy-to-use solution for such tasks: R-Drive Image. We strongly recommend you to download the fully functional 30 day trial and give it a try.