Modern computers are reliable most of the time, but are still prone to failure. When this happens, it often leads to loss of important data, which keeps data recovery businesses in constant demand. Meanwhile, many IT companies, even those involved with data protection and backup, refrain from providing a data recovery service to their customers. They believe such a service requires considerable investment in complex and expensive equipment, and that data recovery is a difficult task that can only be handled by trained specialists.
All of that is true when it comes to incidents that involve physically broken storage media, of any size. But many recovery cases aren't like that and can be solved with nothing more than a common computer, quality data recovery software and basic IT knowledge.
Despite that, many potential customers are willing to pay for data recovery services because they lack the time, effort or experience to do it themselves. As such, performing data recovery can be a profitable sideline business for an ordinary IT service company or a small computer repair shop.
We'd like to introduce you to our R-Studio Technician package, which has been specially designed for use in your business so that you can provide the necessary investigation, forensic and recovery tools to customers. This solution is considerably less expensive than any data recovery hardware tool and is still capable of successfully solving many data recovery cases.
The Different Types of Data Recovery
Before delving into what R-Studio Technician offers, it's important to understand the different types of data recovery: physical recovery and logical recovery.
Physical recovery is necessary when there is damage to the storage device itself – perhaps because of a fried chip, a stalled spindle or scratched plates. This type of damage requires special equipment to extract data from the storage device and must be undertaken in clinically clean rooms. It also must be handled by a highly trained and certificated engineer. It's an expensive and time-consuming process. If you are not ready to spend upwards of US$10,000 on the equipment, let alone the training, we would not recommend you consider providing this kind of recovery service yourself. Instead, you can simply become a partner of an established data recovery company for a commission fee.
Logical recovery is a software solution, where the problem isn't caused by hardware fault – perhaps due to an error with the operating system or accidental user deletion. It's also performed on the data extracted from physical recovery. Specialists can analyze the data with a hexadecimal disk editor or a similar utility, but often this isn't necessary. Instead, easy-to-use recovery software can provide a fast and efficient solution. It can be performed on an average computer, often set up as a dedicated data recovery station. However, despite logical recovery sounding simple, some knowledge and understanding of data recovery essentials are required to avoid a fatal mistake and losing all files that could be recovered.
High-quality data recovery software is the key part of any data recovery station. R-Studio Technician is well suited for this purpose because it's a very powerful and versatile tool that allows you to solve virtually all logical data recovery cases.
Read more: File Recovery Basics: How Data Recovery Works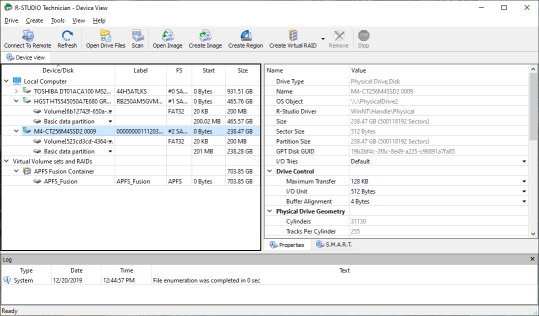 Fig.1. R-Studio Technician Main panel
Click image to enlarge
R-Studio Technician Features
R-Studio Technician has great features that make it one of the best tools for professional data analyzing and file recovery:
S.M.A.R.T. attribute monitoring
This data is necessary to estimate disk hardware health and to select the most suitable data recovery strategy.
A RAID reconstruction and recovery module
Includes support for all standard RAID levels and custom-created RAID configurations. This support includes automatic RAID parameter recognition. R-Studio Technician also automatically recognizes various logical disk and volume managers: Windows dynamic disks (software RAIDs), Windows Storage Spaces, Apple software RAIDs, CoreStorage, File Vault, and Fusion Drive, and Linux Logical Volume Manager (LVM/LVM2) and mdadm RAIDs.
A disk imaging module to create disk images
To perform data recovery from those images, rather than from the original disks. This is a standard practice highly recommended by data recovery professionals.
Read more: Clone Disks Before File Recovery
A disk copy module that can be used to copy data from one disk object to another
Useful when you need to clone a disk, or even to restore data from an image to a physical device.
An advanced Text/hexadecimal viewer/editor
Excellent for various tasks, like to find RAID parameters manually.
Hardware integration
If your data recovery business grows over time, you may start thinking about performing some more complex tasks, including working with slightly faulty disks. Such recovery requires special hardware. R-Studio Technician for Windows can be integrated with DeepSpar Disk Imager™, a disk imaging hardware developed for data recovery from disks with hardware issues. R-Studio Technician for Linux and Mac can work with images created by DeepSpar Disk Imager™.
Read more: Working With DeepSpar Disk Imager™
Forensic mode
When this mode is enabled, R-Studio Technician can create a special forensic data collection audit log that can be presented at court hearings. This log includes information about a hardware configuration on which the forensic data collection takes place and MD5 for recovered files. R-Studio Technician is well-esteemed in the forensic community.
Read more: Why R-Studio?
R-Studio Technician Components
1. R-Studio Technician (for Windows, Linux or Mac)
This is the main tool for most data recovery cases when the storage devices can be removed from their computers and connected directly to the computer where R-Studio Technician is installed.
In addition to its file recovery capabilities, it includes the following advanced features necessary for professional data recovery:
A multi-language interface.
A very powerful file viewer. It can show/playback many file formats without their native applications installed. Those formats include, but are not limited to, Adobe Acrobat, Microsoft/Open/Libre Office documents, and almost all audio, video and graphic files.

Fig. 2. File preview in R-Studio Technician for Mac (Late 2009)
Click image to enlarge
Data recovery over a local network. This is vital when it's impossible to physically remove a disk from a computer and connect it to a computer with R-Studio Technician installed. Instead, connections can be made through a regular local network, or through a patch cord directly connecting the computer to the remote one with R-Studio Technician.

Read more: R-Studio: Data Recovery over Network

Fig. 3. R-Studio Technician connected to a Mac mini (Late 2014) computer over the local network
Click image to enlarge
2. R-Studio Emergency
This tool creates a startup device with the R-Studio software, which can then be used to bypass a computer's operating system.
R-Studio Emergency can be employed to recover data from a computer that cannot be booted in the normal way, or when it's hard to remove disks from sealed computers, like Apple machines or mini-laptops.
It may also be used as a portable version of R-Studio that can be brought directly to a customer to perform on-site data recovery. Also, some technicians prefer to use R-Studio Emergency due to its simplicity - you don't need to disassemble a customer's computers and transport the damaged data device.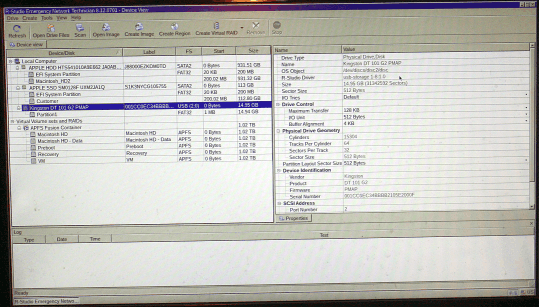 Fig. 4. R-Studio Emergency used to recovery data from a Mac mini computer
Click image to enlarge
R-Studio Emergency can be created on either USB sticks or CD/DVD discs, for older computers. Similarly, both old BIOS and modern UEFI computers, like new Mac and Windows machines, can be started from the R-Studio Emergency startup device.
It has the same features as the other tools, like a powerful file previewer, support for network drives to save recovered files to, analytics, and more. Additionally, it can wipe data on drives using different secure wipe algorithms.
The creation of the R-Studio Emergency startup device is simple. Download and run the R-Studio Emergency (Technician version) GUI Startup Media Creator and select the media type you want to use: an ISO image, CD/DVD recorder, or a USB stick. The technician package is not tied to a specific machine and its R-Studio Emergency can be transferred to another when needed, which provides necessary flexibility.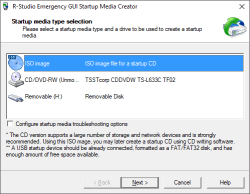 Fig. 5. R-Studio Emergency GUI Startup Media Creator
Click image to enlarge
Read more: Emergency File Recovery Using R-Studio Emergency
3. R-Studio Portable
R-Studio Portable can be installed on an external device (usually on a USB stick or a CD/DVD) and run from that device to avoid installing R-Studio Technician on the customer's computer.
It can be used for express file recovery from computers where the operating system is functional. In these instances, there's no need to install any software. You just connect an already-prepared USB stick to the computer and launch R-Studio Technician.
It may also be used to recover data from computers with unique hardware that requires special drivers to get access to the data. Another scenario is a recovery from computers with a restricted access, like banks, governmental offices, large firms, and alike which must be done on the customer's premises only.
Read more: The best way to recover files from a Mac system disk
R-Studio Technician Licensing
1. Commercial Recovery
The R-Studio Technician license gives the licensee the right to perform commercial data recovery, forensic and other services that involve data analysis and file extraction from third party storage devices.
2. Multi-platform licensing
The R-Studio Technician license key is valid for all three R-Studio Technician versions (Windows, Mac and Linux), provided that only one instance of R-Studio Technician is used at a time. In general, all three versions have the same features and work identically. The exception is that the Windows version is always released first and thus can sometimes have more advanced features than its Mac and Linux counterparts.
3. Flexible installation options
You have the right to temporarily install a copy of R-Studio Technician on a client's computer to perform data recovery. Such copy should be deleted upon completion of recovery.
The package includes R-Studio Emergency, a version that doesn't require activation on each served computer. It can be run from removable media on a customer's computer without installation or writing files, regardless of its operating system.
R-Studio Technician can also be placed on a USB stick and ran on a healthy operating system to inspect and analyze the storage media promptly.
Data Recovery Over the Internet
It's also possible to get access to a customer's computers over the internet and recover files remotely. It's very useful feature that lets you offer an express service to customers that are far away from your office or repair shop.
There's no need to immediately ship damaged hard drives or computers via courier. At first, your customer just needs to download and install R-Studio Emergency on their computer and you connect remotely via the internet. When you get access to the customer computer, you can perform its initial storage device and its content inspection and assessment.
We recommend creating an image of a problem disk remotely and saving it to another healthy storage media. After the image is created, you can try to recover files from the image. R-Studio Technician has two important features for such a task:
Recovered files and images can be saved either to a local or remote computer.
When the remote computer is selected to store files, data is not pumped back and forth through the network. R-Studio saves files directly to the remote computer, which greatly reduces network traffic.
This way, even if the customer needs to send the physical disk to you for a deeper investigation, they would always have a copy of their data in the image file, which protects against any damage or loss during delivery.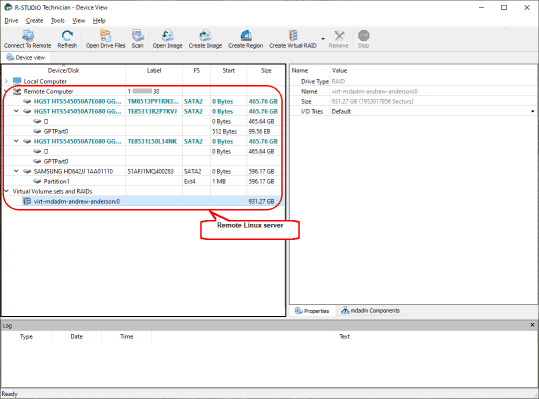 Fig. 6. R-Studio Technician connected to a remote Linux server over the Internet
Click image to enlarge
Read more: R-Studio Technician: Data Recovery over the Internet
Data Recovery Station Requirements
Your data recovery station should meet the following minimum system requirements:
Hardware:
CPU: Intel Core i5 or AMD equivalent.
RAM: 32 GB. If the data recovery job is large, the more RAM the better – it's more important than the CPU.
Ports to connect hard drives:
SATA ports: 1 for the system disk, 4 to recover data from RAIDs and to connect disks to save recovered data.

Fig. 7. A photo of a typical data recovery workstation with several connected SATA disks
Click image to enlarge
PATA (IDE) ports: 1 to connect old disks. Most modern system boards don't have IDE connectors, which is why an extra card with an IDE port or a special IDE-SATA adapter is required.

Fig. 8. An extra card with an IDE port and a connected old hard drive
Click image to enlarge


Fig. 9. An IDE-SATA adapter
Click image to enlarge
USB 3 ports and adapters for USB sticks, memory cards, and M.2 SATA/NVMe SSD devices. Importantly, modern external hard drives only have a USB port, and they cannot be connected to a computer in another way. Additionally, inexpensive adapters are useful to connect IDE/mini IDE hard drives from old laptops to a USB port.
Operating system:
We recommend you use a dual-boot system: Windows and Linux. Such configuration allows you to use the operating system most suitable for a specific file recovery task.
Generally, recover files from Windows storage devices on a Linux machine, and Mac and Linux storage devices on a Windows machine. That prevents the operating system from "repairing" damaged native file systems, which renders data recovery more difficult.
The R-Studio Technician license allows you to simultaneously install the software on both the Windows and Linux configuration, on the same physical hardware.
There's Always a Place for R-Studio Technician
Even if your data recovery business grows to the level when you use professional data recovery hardware, R-Studio Technician will remain an important asset in your data recovery toolset.
Hardware tools are used to extract raw data from hard drives and then software tools are used to process this data to find lost files in it. Although almost all hardware tools are bundled with their software counterparts, R-Studio Technician may well be a good alternative to them because different data recovery programs use their own data recovery algorithms, which may lead to different results.
We do our best to provide you with a logical data recovery tool that gives the best result in data analyzing and bringing lost files back.